The Wave Runner was introduced as the third obstacle on the Second Stage in the Las Vegas finals of American Ninja Warrior 8. It is similar to the Unstable Bridge and the Hourglass Drop. The Wave Runner consists of two boards the first one being an uneven S-board, the other one shaped like an uneven pyramid board. Competitors must hold onto to both sides while crossing. While crossing the first board, competitors must use momentum to reach the second board. On the second board, competitors must reach the other side while keeping both ends even.
An unusual rule was implemented in this obstacle that competitors must use the second board which is an unstable pyramid board. (as competitors can skip the second board by dismounting from the first board) This rule come to play in the case of David Rodriguez which dismounted the obstacle from the first board and successfully landed on the platform, which resulted of him being disqualified. Drew Drechsel almost got disqualified in this obstacle for dismounting from the first board, fortunately he grabbed the second board, successfully landed the platform and completed the obstacle.
This took out half of the competitors who attempted this obstacle in its debut, including Joe Moravsky, Neil Craver, Adam Rayl , Nicholas Coolridge, and Jessie Graff.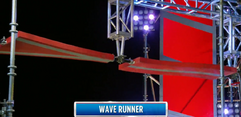 Competitors' Success Rate
| ANW | Clears | Attempts | Percentage |
| --- | --- | --- | --- |
| ANW8 | 6 | 12 | 50% |
| Total | 6 | 12 | 50% |
Ad blocker interference detected!
Wikia is a free-to-use site that makes money from advertising. We have a modified experience for viewers using ad blockers

Wikia is not accessible if you've made further modifications. Remove the custom ad blocker rule(s) and the page will load as expected.