Trevor "Tre" Vaughn
is a student/traceur with APEX Movement from Longmont, Colorado who first appeared in
American Ninja Warrior 2
. He amazed everyone with his speed in the qualifying round, getting first in the qualifer with 39.05 seconds. In the semi-finals, he didn't retain the same speed as his qualifying round, instead looking to clear the stage to e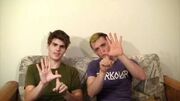 nsure a spot to Boot Camp. However it didn't go as planned when he failed the
Salmon Ladder
soon after moving up the rungs, eliminating his chances at making the top fifteen and placing 20th place overall.
In American Ninja Warrior 3, he was expected to be a threat to make it to Boot Camp due to his speed and improving his skill after practicing on a Salmon Ladder replica. In an unexpected moment, Vaughn slipped on the Quad Steps ending his run at ANW3 early. He was visibly annoyed during his post-run interview explaining his failure was due to a previous competitor's fail on the same obstacle coating the surface of the steps with water, making his trek on the obstacle harder. His fail was arguably the most shocking of the qualifying round.
He didn`t compete in American Ninja Warrior 4, because he had surgery the day they had Mid-South Tryouts, but he did compete in the American Ninja Warrior 5 Denver tryouts on May 19, and he earned redemption and completed the Qualifier. But sadly in the Denver Finals, he couldn't pass the Fuandou(Rotating Bridge/Balance Bridge). It cost him a spot in Vegas.
Ad blocker interference detected!
Wikia is a free-to-use site that makes money from advertising. We have a modified experience for viewers using ad blockers

Wikia is not accessible if you've made further modifications. Remove the custom ad blocker rule(s) and the page will load as expected.