Travis first appeared in American Ninja Warrior 3, where he competed as a walk on, but couldn't get up the Soritatsu Kabe. He then competed in American Ninja Warrior 4 but failed on the Jumping Bars and that made him place 32nd, but he vowed to return the following season. In American Ninja Warrior 5, he made it past qualifying and finished in 23rd place. In the City Finals, he failed on the Body Prop but still qualified for the Finals. In the Finals he failed the Doorknob Grasper on Stage 3. Then in American Ninja Warrior 6, he shockingly failed the Spinning Wheel in the Venice Beach Qualifying, after being one of the few to make it to Stage 3 the previous season.
In American Ninja Warrior 7 he was one of the many people in Venice to fail the Hourglass Drop. However, he managed to place 19th after getting to the Hourglass Drop in 46 seconds, and was still able to move on to the Venice Finals. However, in the finals, he fell on the Hourglass Drop again, this time being disqualified for not grabbing onto the second bridge, and his time didn't make the top 15, ultimately placing 17th overall.
In American Ninja Warrior 8 he was one of the many veterans to not be invited back.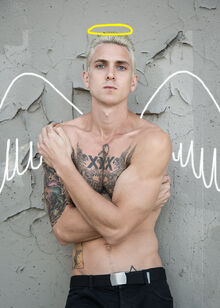 [[Category:Team ninja warrior]
Ad blocker interference detected!
Wikia is a free-to-use site that makes money from advertising. We have a modified experience for viewers using ad blockers

Wikia is not accessible if you've made further modifications. Remove the custom ad blocker rule(s) and the page will load as expected.