Tokutake Gou (徳竹 剛) is a ski instructor who competed in SASUKE 19. From his blog, he stated that he was expecting to get a number in the 20-30 range, but to his surprise he received #90, right behind Yamada Katsumi. [1] During his run, he made it to the Jumping Spider. However, he missed the middle of the trampoline and did not get enough height to complete the obstacle.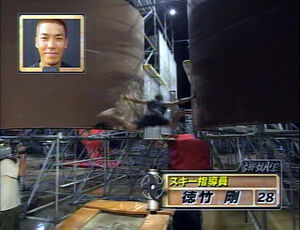 Results
| SASUKE | # | Result | Notes |
| --- | --- | --- | --- |
| 19 | 90 | Failed Jumping Spider (First Stage) | Digest |
References
|}
Ad blocker interference detected!
Wikia is a free-to-use site that makes money from advertising. We have a modified experience for viewers using ad blockers

Wikia is not accessible if you've made further modifications. Remove the custom ad blocker rule(s) and the page will load as expected.