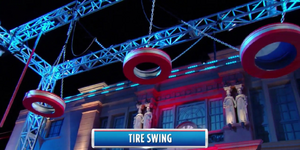 The Tire Swing first appeared in the Orlando Qualifying Round of American Ninja Warrior 7, and returned again for American Ninja Warrior 8 in the Oklahoma City Qualifying Round. It consists of a mini trampoline, a suspended pole, and three suspended tire-shaped circles. Competitors use the mini trampoline to reach the pole. From there competitors use their hands to navigate the tires. The first tire will swing freely, the second will tilt in all directions with weight on it and the last one tips backward. The top of the third tire is covered with a cap, so competitors must grab the inside from underneath. Once at the third tire they must swing to the landing mat. For ANW8, the pole was replace with a rope instead and the trampoline was removed.
Ad blocker interference detected!
Wikia is a free-to-use site that makes money from advertising. We have a modified experience for viewers using ad blockers

Wikia is not accessible if you've made further modifications. Remove the custom ad blocker rule(s) and the page will load as expected.