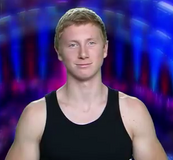 Tim Champion is a British aircraft engineer who competed in the first two Ninja Warrior UK tournaments, reaching the final in both. However, like many other past finalists, he was not invited back to compete in the third competition.
Ninja Warrior UK 1
Tim competed in the first Ninja Warrior UK tournament. He competed in the first heat, and finished second out of 7 competitiors who completed the course. He competed in the second semi-final and finished 3rd out of 10 competitors who completed the stage. In the final round, he completed Stage 1 with 53 seconds left, however fell on the Unstable Bridge on Stage 2.
Ninja Warrior UK 2
Tim competed in the second Ninja Warrior UK tournament. He finished first in Heat 4, being only 1 of 3 competitors to complete the stage, out of 50 competitors who attempted it. In the semi final, he finished 7th overall and advanced to the Final. However, in the first stage of the Final, he was disqualified on the Paddle Boards for touching the centre axis, being one of 9 competitors to fall here out of 15.
Results
| Ninja Warrior UK | Result | Notes |
| --- | --- | --- |
| 1 | Failed Unstable Bridge (Final-Second Stage) | |
| 2 | Failed Paddle Board (Final-First Stage) | Disqualified. Touched the centre axis. |
Ad blocker interference detected!
Wikia is a free-to-use site that makes money from advertising. We have a modified experience for viewers using ad blockers

Wikia is not accessible if you've made further modifications. Remove the custom ad blocker rule(s) and the page will load as expected.