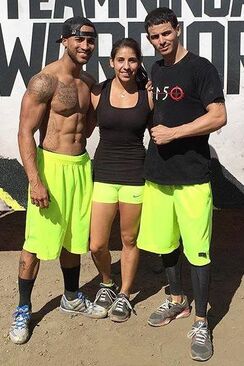 Tiana Webberley A.k.a "Sweet T" trains with Flip Rodriguez, and was first seen in American Ninja Warrior 7. She later competed on Team Ninja Warrior. Along with Flip Rodriguez and JJ Woods, she was on Team Ronin.
American Ninja Warrior 7
Webberley competed in the Venice qualifiers, making all the way to the Balance Bridge. She was later seen supporting Flip during his qualifying run in Orlando, revealing that she trains with him.
Team Ninja Warrior Qualifying Week Four
Round 1 First, Tiana went up against Beth Higginbotham from Karsonic Boom. Tiana got ahead on the first obstacle, Sonic Swing. Higginbotham, though, fell on the second obstacle, the Log Grip. Tiana got the point, being ahead of Higginbotham. Round 2 In Round 2, Tiana went up against Rose Wetzel. It was a battle to the end with both women getting to the Warped Wall. Tiana got up it, winning the point for her team, and being just the fifth woman to ever do so in competition. Relay Showdown Team Ronin moved on to the "Relay Showdown" against Think Tank. Tiana ran the first three obstacles against Asya Grechka and then tagged JJ Woods. She got an early lead on Grechka, helping their team win, meaning that they are moving on to the finals.
American Ninja Warrior 8
She completed in the Los Angeles region. She was doing good until she got to the I-Beam Cross which she failed after getting very close to competing the obstacle. Had she cleared, she would of have been one of three woman to make it to the Los Angeles regional finals, along with Jessie Graff and Natalie Duran. She however got a wildcard, but like many other women, failed the Propeller Bar in Stage 1.
Ad blocker interference detected!
Wikia is a free-to-use site that makes money from advertising. We have a modified experience for viewers using ad blockers

Wikia is not accessible if you've made further modifications. Remove the custom ad blocker rule(s) and the page will load as expected.