Thomas Stillings is a Parkour Instructor from San Antonio, TX.
Thomas first competed in American Ninja Warrior 7 at the Houston City Course, where he completed the Qualifying course in the third fastest time. In the Finals he was one of 13 competitors who had failed the Walking Bar but still placed 6th place overall and went to Las Vegas.
In the Vegas Finals, His entire run was cut from the broadcast, but he had cleared the first stage with over 16 seconds, and had failed the Unstable Bridge in the second stage.
He returned for his second season at the Oklahoma City region, where dominated that course. In the Qualifying he completed the course in the fastest time with 1:43:51. In the city finals he was the first competitor shown to have made it through the
Window Hang
, but unfortunately his grip gave out on the
Invisible Ladder
. He still placed 3rd overall and went to Vegas for the second season in a row.
In Vegas, he had a few stumbles, but still clear the First Stage with the second fastest time after Jake Murray, and made it to the second stage once again. On Stage Two, he cleared the first obstacle with ease but on the new Down Up Salmon Ladder, he failed on the transition to the second wall.
Thomas returned for his third year and was one of the many San Antonio natives to compete there. His run was digested in qualifying but he finished the course with the second fastest time behind his friendly rival, Daniel Gil. In the city finals, Thomas was the only competitor that night to have skipped the second board on the Hourglass Drop. He then became the first competitor to clear Spinball Wizard, but later failed the Elevator Climb. Thomas placed 2nd overall and moved onto to Vegas for the third year in a row. His run on Stage 1 was digested but it was shown that he finished with 32.88 seconds remaining, but he failed on Wingnut Alley in Stage 2.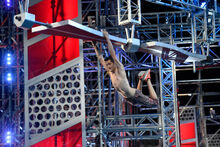 Thomas returned in Dallas for his fourth year. His qualifying run was digested, but it showed that he took a more steady approach through the course and although he attempted the Mega Wall but failed, he easily scaled the regular
Warped Wall
and finished with the fifth fastest time.
| ANW | # | Result | Notes |
| --- | --- | --- | --- |
| 7 | | Failed Unstable Bridge (Second Stage) | Run cut from broadcast |
| 8 | | Failed Down Up Salmon Ladder (Second Stage) | Failed on transition |
| 9 | | Failed Wingnut Alley (Second Stage) | |