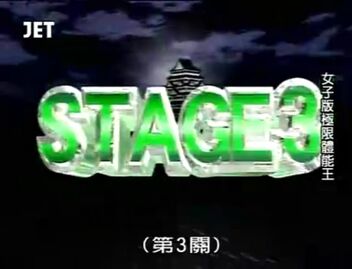 The first, second and ninth KUNOICHI competitions had no traditional Third Stage, as there were only three stages, making it the Final Stage. The third tournament introduced a regular Third Stage, but KUNOICHI 5 abandoned the full-stage time limit, and the next tournament removed the time limit altogether. The eighth tournament replaced the traditional format of the Third Stage, instead introducing a competitive, single obstacle challenge known as the Flying Roll, similar in design to the Monster Box.
The ninth tournament once again only used three stages in similar fashion to the first two competitions, only for the traditional Third Stage format to return in the upcoming tenth tournament, named the Black Stage to keep in pattern with the ninth tournament's color-based naming for its stages, with the exception of the Final Stage. The tournament has five obstacles featured in the stage, the most in a single Third Stage in KUNOICHI history.
TBS Obstacles Names
G4 Obstacle Names
Comp #
Third Stage Obstacles
Time Limit
3
Super Vault
Domino Hill
Pendulum Bridge
90.0
4
Super Vault
Domino Hill
Pendulum Bridge
90.0
5
Unforgiving Wall
Domino Hill
Dreamer's Road
15.0 (Dreamer's Road only)
6
Peg Jump
Domino Hill
Pendulum Bridge
Unlimited
7
Peg Jump
Domino Hill
Magic Wall
Unlimited
8
Flying Roll
Unlimited
Gallery
External Links
Ad blocker interference detected!
Wikia is a free-to-use site that makes money from advertising. We have a modified experience for viewers using ad blockers

Wikia is not accessible if you've made further modifications. Remove the custom ad blocker rule(s) and the page will load as expected.