The Wedge
is an obstacle, firstly introduced as the eighth obstacle in Los Angeles finals on 
American Ninja Warrior 8
. It is officially known for being one of the toughest city finals obstacle in American Ninja Warrior history, and statistically has the third-lowest completion rate of any obstacle (With the
Unstable Bridge
on
American Ninja Warrior 3
being first and the
Nail Clipper
of
American Ninja Warrior 9
being second).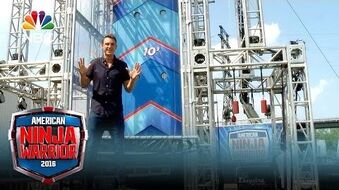 Competitors must hop a bar across a wedge-shaped gap, somewhat similar to the
Flying Bar
, then make the dismount the same distance as the gap. However, the dismount is made harder by the fact the bar would roll as they swung, because it had a lacrosse ball on both ends. It proved to be incredibly difficult as many competitors fell either from tiring out, keeping the bar even, or attempting to make the dismount. Several top competitors (e.g. 
Ben Melick
,
Flip Rodriguez
,
Adam Rayl
,
Grant McCartney
,
Jackson Meyer
,
Nick Hanson
,
Kevin Bull
, and
Nicholas Coolridge
) fell on the obstacle. Only two competitors,
Jessie Graff
and
Josh Levin
, were able to get past the obstacle entirely. It has been confirmed that the Wedge is to return on
ANW 9
, serving as the eighth obstacle in the Denver finals.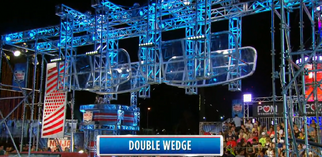 Double Wedge
The Wedge returned in Stage Two as the Double Wedge, replacing Roulette Row from the previous season. This iteration of The Wedge was 22 feet across and it worked similarly to it's single-wall set counterpart, but competitors had to lache to a second Wedge at the end of the first one. Of the six competitors who attempted this obstacle, four of them failed: Josh Levin, Jake Murray, Brian Arnold, and Chris Wilczewski. Only Drew Drechsel and Daniel Gil were able to defeat this obstacle.
Competitors' Success Rate
| ANW | Clears | Attempts | Percentage |
| --- | --- | --- | --- |
| ANW8 | 2 | 20 | 10% |
| ANW 8 (Double Wedge) | 2 | 6 | 33.33% |
| ANW 9 | TBA | TBA | TBA |
| Total | | | |
Note: All percentages are rounded to the hundredth place.
Trivia
The Wedge was the third hardest known city finals obstacle in American Ninja Warrior history by 2017, taking 18 out of the 20 competitors who've faced it, giving it a 90% knockout rate. While the Unstable Bridge in the Semi-Finals of American Ninja Warrior 3, the obstacle with the highest knockout rate took 13 out of the 14 competitors who've faced it, giving it a 92.85% knockout rate.
Coincidentally, Ben Melick, who had also fell on Cannonball Alley in American Ninja Warrior 6 also placed 15th on this obstacle.
The obstacle originally was going to have separate walls to make it feel more inspired by the Flying Bar obstacle. However, no tester could succeed in getting past that version, so it was scrapped.
The Wedge is named after a surfing spot of the same name in Newport Beach, California.
Ad blocker interference detected!
Wikia is a free-to-use site that makes money from advertising. We have a modified experience for viewers using ad blockers

Wikia is not accessible if you've made further modifications. Remove the custom ad blocker rule(s) and the page will load as expected.