The Clacker is an obstacle, firstly introduced as the ninth obstacle during Atlanta finals on American Ninja Warrior 8.
This obstacle is a 20 feet in length and has ten clackers in total (four on the left side and six on the right side). There, competitors must grab two clackers that are sitting on a ledge and bring it up and over to the other side of the ledge, from there transitioning to another set of clackers. After the second set of clackers, the contestant can only use one side, which is at the middle. These clackers alternate in length, either 14 and 16 inches long. From the middle, competitors must once again transitioned to another pair of clackers. There are two sets, but if they want to, competitors can dismount after the first set.
Seven competitors reached this obstacle. Ultimately, Travis Rosen, Brett Sims, James McGrath, and Drew Drechsel were the only four competitors to finish the course. Three competitors came very close to finish this obstacle (Casey Suchocki, Jo Jo Bynum, and Shawn Richardson).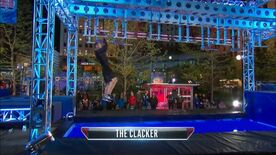 The Clacker returned as the ninth obstacle during Cleveland finals on American Ninja Warrior 9, with a similar specification from Atlanta finals.
However, due to the brutality from the previous obstacle (the Nail Clipper), only Jamie Rahn and Joe Moravsky could reach this obstacle, and both of them could complete it.
On American Ninja Warrior 10, The Clacker appeared during Indianapolis finals. The obstacle remained unchanged from the past 2 American Ninja Warrior seasons, other than being moved back a position to the eighth obstacle, directly following the Salmon Ladder.
Competitors' Success Rate
All results based on the NBC broadcast and external information found
| ANW | Clears | Attempts | Percentage |
| --- | --- | --- | --- |
| ANW8 | 4 | 7 | 57.14% |
| ANW9 | 2 | 2 | 100% |
| Total | 6 | 9 | 66.67% |
Trivia
The idea of this obstacle came from a wooden ratchet instrument.
The name came from the clacking sound that the wooden ratchet makes.
The original concept were first started out as right-arm and left-arm movements and then windshield wiper movements were added to one side in the middle to make it harder.
With Jamie Rahn and Joe Moravsky as the only 2 competitors to attempt and complete this obstacle during American Ninja Warrior 9's Cleveland finals, this was the first time since American Ninja Warrior fully featured 10 obstacles in every city finals course (starting on American Ninja Warrior 5), that the ninth obstacle had a 100% completion rate.