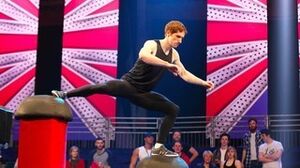 Teige Matthews-Palmer is a British PhD Student in Biochemistry, and a veteran of the first two Ninja Warrior UK Competitions. However, like many other past finalists, he was not invited back to compete in the third competition.
Ninja Warrior UK 1
In Ninja Warrior UK 1, he came second place, reaching stage two of the final and ultimately failing the transition from the first to second board on the Unstable Bridge. During the heats and semi-finals he performed well, clearing the Spider Climb in the semi-finals and scaling the Warped Wall with ease.
Ninja Warrior UK 2
In the second Ninja Warrior UK tournament, he returned with a vengeance, having practiced climbing rope to prepare. He performed well in the heats and semi-finals, achieving the fastest time in his heat and the fastest overall time on the semi-final leaderboard.
Shockingly however, before his finals run he complained of "paddle panic", and ultimately failed the deadly Paddle Boards of stage one, along with eight other finalists that day. In his post-run interview he expressed sadness at his early exit, and apologized to his training partners and friends for his failure.
It is unknown if he will return for series 3, but due to his reputation as a "top-tier" competitor and his drive to achieve Total Victory, his return can be considered likely.
X-Warrior (极限勇士)
Teige also competed in China's international X-Warrior (极限勇士) competition, as part of Team UK.