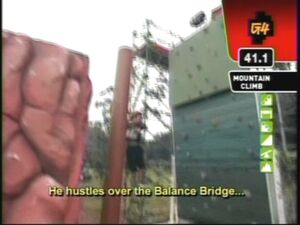 The Taki Kudari (滝下り) (called Maruta Kudari (丸太下り) in the first competition)was a First Stage obstacle in the first two SASUKE tournaments. Placed right before Free Climbing, it was a vertical log that the competitor slid down onto a mat. Some contestants bypassed it all together and just jumped from the platform above. It was removed in favor of the Tarzan Jump/Rope Climb combination in SASUKE 3. 
This was not considered an official obstacle by TBS or G4, but rather part of the path to Free Climbing. G4 did not even give it a name, choosing to lump it in with Free Climbing (or the Mountain Climb, as they called it).
Competitors' Success Rate
All results based on the TBS broadcast and external information found
| SASUKE | Clears | Attempts | Percentage |
| --- | --- | --- | --- |
| 1 | 44 | 44 | 100% |
| 2 | 48 | 48 | 100% |
| Total | 92 | 92 | 100% |
Ad blocker interference detected!
Wikia is a free-to-use site that makes money from advertising. We have a modified experience for viewers using ad blockers

Wikia is not accessible if you've made further modifications. Remove the custom ad blocker rule(s) and the page will load as expected.