Takahashi Kenji's Swap Salmon Ladder Disqualification is a very controversial ruling that occured during SASUKE 30's Second Stage.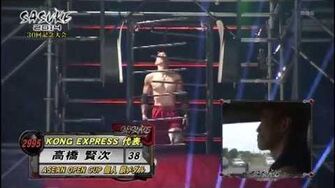 When Takahashi started the
Swap Salmon Ladder
, he easily completed the first jump, but while attempting the second jump, the left side of the third rung inexplicably retracted, causing Takahashi to land slanted, which is not allowed on the
Swap Salmon Ladder
, (despite the fact that it was allowed on the previous versions). Subsequently, the rung popped back out one second later and Takahashi pushed the bar up to it, but despite the obstacle visually malfunctioning he was told to stop. Takahashi was outraged, and protested about the matter, but unfortunately, his protest was not acknowledged and he was eliminated. After his run, many people protested that he should run again and that the Swap Salmon Ladder rule should not of been established.
Ad blocker interference detected!
Wikia is a free-to-use site that makes money from advertising. We have a modified experience for viewers using ad blockers

Wikia is not accessible if you've made further modifications. Remove the custom ad blocker rule(s) and the page will load as expected.