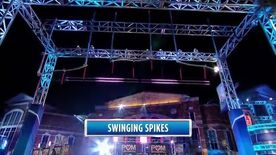 The Swinging Spikes is an obstacle, firstly introduced as the fifth obstacle on American Ninja Warrior 7 in Houston.
It consisted of eight suspended spikes, divided into 3 sections (the first two sections had 3 spikes each and the last section had two spikes). Competitors must use their upper-body to traverse the spikes and reach the landing platform. Some of the spikes moved side to side, some moved forward and backward, and others were attached to a bungee cord, which would move the spike down when competitors held onto it.
During Houston qualifiers, the obstacle was proved to be moderately difficult for competitors, as several top competitors (e.g. Evan Dollard, Robert Ing, Jeremiah Morgan, and Karsten Williams) failed on this obstacle, and only 15 competitors could complete it. During Houston finals, 8 more competitors failed on this obstacle.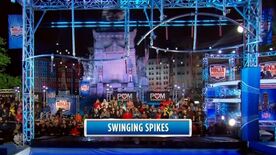 The Swinging Spikes returned as the fifth obstacle on American Ninja Warrior 8 in Indianapolis. However, the first 5 spikes were on a tilting S-shaped beam. After the first 5 spikes, there were two branching paths. One path had 5 spikes and the spikes were on an arch, while the other path had a descending path and 3 spikes. During Indianapolis qualifiers, 27 competitors could complete the obstacle.
During Indianapolis finals, the arch path was removed and the descending path was modified into the ascending one. As the result, 4 more competitors failed on this obstacle (in which 3 of them completed the obstacle during Indianapolis qualifiers).
Other Appearances
On Australian Ninja Warrior, the Swinging Spikes appeared as the seventh obstacle in Semifinal 3, which was very similar to the Swinging Spikes during American Ninja Warrior 8's Indianapolis finals, except the number of spikes was reduced to just 5. Also, just like the Flying Shelf in Semifinal 2, competitors needed to climb up a rope. Then, they must swing forward to reach the first spike.