The
Swinging Peg Board
is an obstacle, firstly introduced as the eighth obstacle on 
American Ninja Warrior 9
 during Los Angeles finals.
The obstacle was made up of two swinging pegboards with seven holes in each pegboard, and several pegs which was placed into them (three on the first pegboard and one on the second pegboard).
Competitors have to hold on to a peg and place it to the holes (in a similar fashion to the pegboard section of the Monkey Peg or Monkey Pegs from American Ninja Warrior 7), while trying to generate enough swing and momentum to traverse one peg to the other pegboard. After that, competitors have to generate enough swing and momentum to make the dismount from the second pegboard to the landing platform. Among the 19 competitors who attempted it, 10 of them could complete the obstacle.
The Swinging Peg Board was attempted early during Celebrity Ninja Warrior: Red Nose Day, when Stephen Amell gave a preview on this obstacle after completing the Salmon Ladder. Although he failed to complete it, his performance at that time was awarded the "M&M's Run of the Night" and earned $35,000 for Red Nose Day charity by completing seven obstacles.
Other Appearances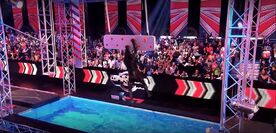 On Ninja Warrior UK 4, the Swinging Peg Board appeared as the fourth obstacle during the finals' Stage 2. However, the obstacle was called as the Monkey Pegs (not to be confused with the Monkey Peg, which was the original incarnation of the Swinging Peg Board), and there was only 1 pegboard instead of 2.