The Swing Circle (スイングサークル) was the obstacle after the Ultimate Cliffhanger in SASUKE 25 and 26's Third Stage, after Urushihara Yuuji's kanzenseiha in SASUKE 24.
It consisted of four rings hanging from the scaffolding above, where the competitor must jump from one ring to the next ring below it, similar to the Jumping Bars.
The rings appeared to be on a track similar to the Gliding Ring (except the track was shorter and steeper), meaning the rings may be able to move freely.
The obstacle was never attempted during its short lifespan, due to the immense difficulty of the Ultimate Cliffhanger. The Swing Circle was modified into the Jumping Ring in SASUKE 27.
American Ninja Warrior Appearance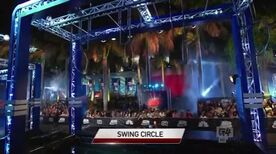 The Swing Circle appared as the fifth obstacle on American Ninja Warrior 4 in Southeast region, but with an addition of the trampoline at the starting platform. Kamerion Wimbley became the first competitor to complete it on either SASUKE and American Ninja Warrior.
Other Appearances
Despite no competitor attempted the Swing Circle in SASUKE and only used once on American Ninja Warrior (in Southeast region of American Ninja Warrior 4), this obstacle had been used three times during the first three seasons of Ninja Warrior UK. However, the obstacle was modified on each season:
On Ninja Warrior UK, the obstacle was similar to the one used on American Ninja Warrior 4, except there was no trampoline at the starting platform.
On Ninja Warrior UK 2, the number of rings was reduced from four (from the previous season) to just three.
On Ninja Warrior UK 3, the number of rings was returned to four, with smaller rings than the previous season.
Competitors' Success Rate
All results based on the TBS broadcast and external information found
| SASUKE | Clears | Attempts | Percentage |
| --- | --- | --- | --- |
| 25 | 0 | 0 | N/A |
| 26 | 0 | 0 | N/A |
| Total | 0 | 0 | N/A |
Ad blocker interference detected!
Wikia is a free-to-use site that makes money from advertising. We have a modified experience for viewers using ad blockers

Wikia is not accessible if you've made further modifications. Remove the custom ad blocker rule(s) and the page will load as expected.