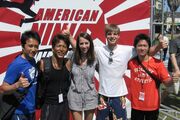 Stephen Volcko is 25 years old and unemployed. he was born in 1987.
Currently lives in Ames Iowa on his parents floor due to unemployment.
Volcko competed in ANW 1 and ANW 2 and failed to make the top 30.
In American Ninja Warrior, he competed the course, but wasn't fast enough to make it into the Top 30.
In American Ninja Warrior 2, he wanted to go fast, but slipped on the Jumping Spider and didn't get into the Top 30 again.
In American Ninja Warrior 3, Volcko placed 18th in the qualifier, but fell on the Salmon Ladder in the semi-finals and was eliminated.
In American Ninja Warrior 4, Volcko mpleted the qualifier and then he got revenge on the Salmon Ladder to clear the regional finals to move on to the finals. In the Vegas Finals, he cleared the first 3 obstacles, but went out on the Jumping Spider.
In American Ninja Warrior 5, he competed in the Denver qualifer. He cleared the course, placing 22nd place. In the Denver Finals, his run was all cut but it is known from external information that he failed the Floating Stairs.
He didn't compete in American Ninja Warrior 6.