The Stair Hopper is an obstacle, firstly introduced as the ninth obstacle on American Ninja Warrior 8 during Philadelphia finals. On this obstacle, competitors must:
Move a 4 feet free-moving bar, along a set of rails (3.5 feet apart), down four drops which alternate the heights of drops of either 5 and 10 inches.

This includes a small gap to clear when attempting the second and fourth drops.

After that, competitors must jump the pipe up four times with also alternate heights of either 5 and 12 inches, to keep on the tracks.

Similarly to going down the drops, there are two gaps (over the first and third jump), in which competitors must avoid falling through.
The gaps make jumping the bar much harder, because they must jump it from a greater distance and have no rail to help keep the bar in place.

Once up the four jumps, the competitor must slide the bar along a slightly longer set of rails, and step over to the platform.
During Philadelphia finals, the obstacle was proven to be incredibly difficult, taking out many top competitors including Jesse Labreck, Najee Richardson, Jamie Rahn, and most notably, Geoff Britten. Among 10 competitors who reached this obstacle, only two competitors could complete it, which were Joe Moravsky and Chris Wilczewski. Ultimately, both of them gassed out at the final obstacle (the Invisible Ladder), making Philadelphia finals the first time in American Ninja Warrior history, that no competitor could complete the city finals course.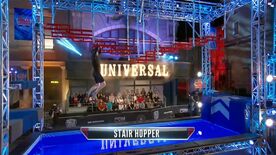 The Stair Hopper returned as the ninth obstacle on
American Ninja Warrior 9
during Los Angeles finals, which had the same specification from Philadelphia finals. Once again, 10 competitors reached this obstacle. However, unlike during Philadelphia finals, 6 competitors could complete it, including
Charlie Andrews
,
Josh Levin
, and
Flip Rodriguez.
On the contrary,
Kevin Bull
,
Robin Pietschmann
,
Jackson Meyer
, and
Brian Wilczewski
fell on this obstacle.
Trivia
It is basically a combination of the Pipe Slider and the Bar Hop.
The function is somewhat similar to the Pipe Slider in the first season of American Ninja Warrior.
Unlike the Pipe Slider, in which the pipe is in the track already, competitors must put the bar in the tracks first before attempting the obstacle.
The idea started out as steps up, then down, but the producers like to make this obstacle more harder, so they flipped the design upside down.
With Geoff Britten fell on this obstacle during American Ninja Warrior 8's Philadelphia finals, it became the first obstacle he failed to complete on American Ninja Warrior, since the Jumping Spider in Stage One on American Ninja Warrior 6.
Ad blocker interference detected!
Wikia is a free-to-use site that makes money from advertising. We have a modified experience for viewers using ad blockers

Wikia is not accessible if you've made further modifications. Remove the custom ad blocker rule(s) and the page will load as expected.