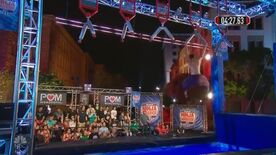 The Spinball Wizard is an obstacle, firstly introduced on American Ninja Warrior 9 as the ninth obstacle during San Antonio finals.
It consisted of five sets of spherical handles, shaped like an inverted-V. Except at the second set of handles, the other four sets handles could spin freely.
Competitors have to hold on to a set of handles and must swing four feet to another set of handles. Then, they must repeat this process, until they could make the last swing to the landing platform. Only Karsten Williams and Andrew Lowes failed on this obstacle.
On American Ninja Warrior 10, the Spinball Wizard appeared as the ninth obstacle during Philadelphia finals, and the obstacle remained unchanged from the previous season.