The Spin Bridge is an obstacle used in SASUKE 27 in the First Stage, positioned after the Soritatsu Kabe. The obstacle is a version of the Cannonball used in the VIKING tournaments, where the competitor has to run across four spheres, which spin when touched. The obstacle did small damage for its debut, eliminating previous finalists All-Star Yamamoto Shingo and veteran Takahashi Kenji. It should also be noted that this obstacle is infamous for dislocating Kanno Hitoshi's shoulder and forcing him to withdraw after the Slider Drop in Stage 2.
In SASUKE RISING it returned and was placed in the third position just after the Rolling Escargot. It proved to be much more dangerous than its SASUKE 27 version as it took out numerous competitors. #37 Gondou Hiroyuki was the first to beat it that day and it took out SASUKE 24 finalists Li En Zhi and Hashimoto Kouji and SASUKE All-Stars Yamamoto Shingo (for a second straight tournament) and Akiyama Kazuhiko. It was replaced by the Hedgehog in SASUKE 29.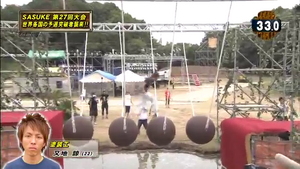 Competitors' Success Rate
All results based on the TBS broadcast and external information found
| SASUKE | Clears | Attempts | Percentage |
| --- | --- | --- | --- |
| 27 | 27 | 30 | 90% |
| 28 | 18 | 36 | 52.96% |
| Total | 48 | 68 | 68.68% |
Ad blocker interference detected!
Wikia is a free-to-use site that makes money from advertising. We have a modified experience for viewers using ad blockers

Wikia is not accessible if you've made further modifications. Remove the custom ad blocker rule(s) and the page will load as expected.