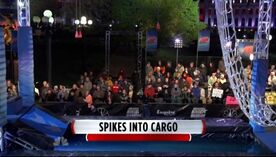 The Spikes Into Cargo is an obstacle, first introduced as the fourth obstacle on American Ninja Warrior 6 in Denver. Competitors must jump from the mini-tramp, use their both hands to grab a pair of cones, then build up a momentum to transition to the next cone (the middle cone), and then transition to the cargo net to reach the landing platform. In Denver finals, the middle cone was removed, requiring competitors to build up bigger momentum to transition from a pair of cones, directly to the cargo net.
Besides being used on American Ninja Warrior 6, this obstacle was also used on Ninja Warrior UK 2, in Heat 3 and Heat 4, with the same specification from Denver finals (with shorter gap between the pair of cones and the cargo net), and it was called as the Jump Hang with Cones.
Ad blocker interference detected!
Wikia is a free-to-use site that makes money from advertising. We have a modified experience for viewers using ad blockers

Wikia is not accessible if you've made further modifications. Remove the custom ad blocker rule(s) and the page will load as expected.