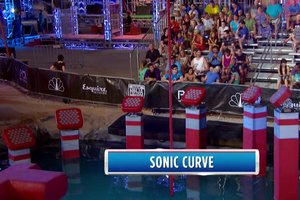 Sonic Curve was the fifth obstacle in Stage 1 of the National Finals of American Ninja Warrior 7. Competitors run full speed along a series of 6 angled tiles that increase in height and are arranged in a semicircle in order to jump to a rope. Once they are on the rope they can swing to the landing platform. This obstacle is similar to its predecessor, the Half-Pipe Attack, with the rope and landing platform remaining the same.
This became an inspiration for the debut of the Snake Run on American Ninja Warrior 8, which is instead of an angled tile, competitors have to run along a series of angled discs that differ in angles and are arranged in a S.
Ad blocker interference detected!
Wikia is a free-to-use site that makes money from advertising. We have a modified experience for viewers using ad blockers

Wikia is not accessible if you've made further modifications. Remove the custom ad blocker rule(s) and the page will load as expected.