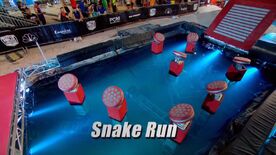 The Snake Run is an obstacle, firstly introduced as the first obstacle in Stage One on American Ninja Warrior 8, replacing the Piston Road from the past two seasons. Competitors have to cross eight 20 inches varied-angle disks that are shaped like a letter 'S', also allowing competitors to skip some of the disks. The disk steps are inspired by the steps on the Sonic Curve.
Despite being just the first obstacle on Stage One, it was proven to be surprisingly difficult, due to the fact that the steps wobbled and were angled differently. Because of that, there was no room for error while attempting the obstacle, as competitors either flew through the first six steps or had a stumble and failed.
Although only 8 competitors fell on this obstacle, it took several top competitors like Travis Rosen and most shockingly, Geoff Britten (which would lead to his temporary retirement from the competition).
During USA vs. The World 3, the obstacle took out Bjarke Tønnesen (Team Europe) and Jessie Graff (Team USA).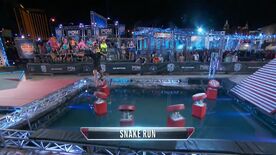 The Snake Run returned on
American Ninja Warrior 9
in Stage One, once again as the first obstacle. However, the number of disks was reduced to 6, and the disks were placed like an inverted 'C', which sets a predetermined route that competitors has to use, if not, all of the steps. The design on the steps was changed from dots to crosshairs. This version was proven to be much easier, as only six competitors failed (including
Brian Wilczewski
and
Steve Seiver
).  
Competitors' Success Rate
All results based on the NBC broadcast and external information found