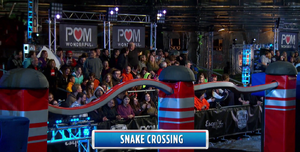 Snake Crossing first appeared in the Pittsburgh Qualifying Round of American Ninja Warrior 7. It consists of two S-shaped balance beams that separate three Dancing Stones. Both of the beams tilt. Competitors must traverse the stones and beams to reach the landing mat. The first beam is designed so that the competitor begins walking slightly downhill and then uphill in a straight line. The second beam is designed so that the competitor walks right before coming back left and then right again following the S-shape. Since the beams tilt, a lot of competitors had trouble getting past the middle of the second beam. To avoid this part, some competitors leaped to the last stone from the first half of the second beam. With that obstacle being a balance one, competitors are not allowed to use their hands while attempting this obstacle which may lead to disqualification.
This obstacle is proven to be one of the most tricky obstacles in American Ninja Warrior history, as it was fairly easy for competitors to overthink the obstacle. It was able to claim a high 50 athletes in Pittsburgh qualifying, with a good amount of them being ANW veterans like Chris Wilczewski, Melanie Hunt and Dan Galiczynski. Another 6/30 athletes in the finals couldn't get past Snake Crossing in the finals, including Miles Avery and Michelle Warnky. Since 29 athletes had gotten to this obstacle in the finals, Snake Crossing in the finals had about a 20.6% knockout rate.
Ad blocker interference detected!
Wikia is a free-to-use site that makes money from advertising. We have a modified experience for viewers using ad blockers

Wikia is not accessible if you've made further modifications. Remove the custom ad blocker rule(s) and the page will load as expected.