The Slider Drop (スライダードロップ) was introduced as the first obstacle of Stage Two in SASUKE 25.
It was essentially a modified version of the Stick Slider and the Slider Jump. The competitor must jump up and latch onto a bar 5.5 meters above the water and must then slide the bar down a track, which has one drop. The bar, even though it has stoppers on it, must be kept relatively straight in order for it to stay on the tracks. The bar has to has to stay even in order to prevent the bar from sliding off the track, At the end of the track, the competitor can let go and fall onto a landing pad.
In its first appearance, one competitor (Levi Meeuwenberg) failed on this obstacle, but three competitors failed in SASUKE 27, including Flip Rodriguez and Shin Sedai member, Tajima Naoya. It was replaced in favor of the Cross Slider in SASUKE 28.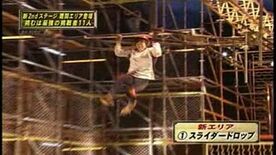 American Ninja Warrior Appearance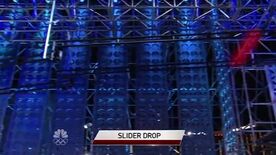 The Slider Drop appeared as the first obstacle in Stage Two on American Ninja Warrior 4, and eliminated James McGrath, Chris Wilczewski, and Kole Stevens. On American Ninja Warrior 5, it was replaced by the Hang Slider.
Competitors' Success Rate
All results based on the TBS/NBC broadcast and external information found
| SASUKE/ANW | Clears | Attempts | Percentage |
| --- | --- | --- | --- |
| 25 | 10 | 11 | 90.91% |
| 26 | 10 | 10 | 100% |
| 27 | 24 | 27 | 88.89% |
| ANW4 | 21 | 24 | 87.5% |
| Total | 44 | 48 | 92.68% |
Ad blocker interference detected!
Wikia is a free-to-use site that makes money from advertising. We have a modified experience for viewers using ad blockers

Wikia is not accessible if you've made further modifications. Remove the custom ad blocker rule(s) and the page will load as expected.