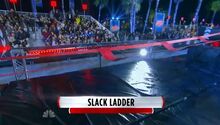 The Slack Ladder was the third obstacle, first introduced on American Ninja Warrior 6 in Venice Beach. Competitors must walk across 18 feet nylon-made ladder, with four rungs to step on. Competitors were not allowed to use hands/touch the obstacle with hands. If they did so, they would be disqualified.
Ad blocker interference detected!
Wikia is a free-to-use site that makes money from advertising. We have a modified experience for viewers using ad blockers

Wikia is not accessible if you've made further modifications. Remove the custom ad blocker rule(s) and the page will load as expected.