The Skywalk (スカイウォーク) was a Second Stage obstacle in SASUKE 19, which served as the fourth obstacle, replacing the Net Bridge.
It was never attempted (as the last two competitors who attempted the Second Stage both failed on the Salmon Ladder) and was replaced by the Swing Ladder in the next tournament.
It appeared to be similar to the Cliffhanger, but has significant differences:
The ledges in the Skywalk were much thicker than the Cliffhanger.
Competitors have the ability to use their feet against the wall. While in the Cliffhanger (except the Ultimate Cliffhanger), there was no wall or whatsoever.
A similar obstacle called the Power Hanger was used in SASUKE 21 Trials.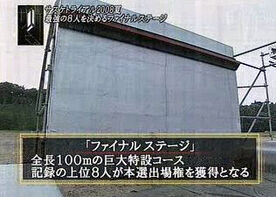 Competitors' Success Rate
All results based on the TBS broadcast and external information found
| SASUKE | Clears | Attempts | Percentage |
| --- | --- | --- | --- |
| 19 | 0 | 0 | N/A |
| Total | 0 | 0 | N/A |