The Skywalk (スカイウォーク) was a Second Stage obstacle from SASUKE 19 which serves as the fourth obstacle, replacing the Net Bridge. It was never attempted (as the last two people who attempted the Stage both failed on the Salmon Ladder) before being replaced by the Swing Ladder the next tournament.
It appears to be similar to the Cliffhanger, but has significant differences to one another:
The ledges in the Skywalk are much thicker than the Cliffhanger.
Competitors have the ability to use their feet against the wall while in the Cliffhanger there is no wall or whatsoever.
A similar obstacle called the Power Hanger was used in the SASUKE 21 Trials.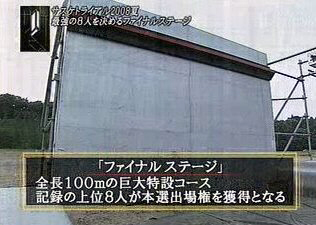 Competitors' Success Rate
All results based on the TBS broadcast and external information found
| SASUKE | Clears | Attempts | Percentage |
| --- | --- | --- | --- |
| 19 | 0 | 0 | N/A |
| Total | 0 | 0 | N/A |
Ad blocker interference detected!
Wikia is a free-to-use site that makes money from advertising. We have a modified experience for viewers using ad blockers

Wikia is not accessible if you've made further modifications. Remove the custom ad blocker rule(s) and the page will load as expected.