Sean Bryan is a Catholic Church Worker from Berkeley, California. Bryan is known by many as the "Papal Ninja", for his involvement in religious affairs.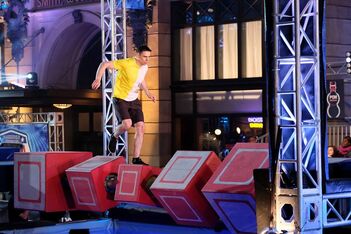 American Ninja Warrior 8
He first competed in American Ninja Warrior 8 Los Angeles and cleared the qualifiers with the 4th fastest time of 2:30.11. Despite placing in the top 5 in qualifying, Bryan shockingly failed just the third obstacle, the Escalator, in city qualifying. He placed 26th overall and did not advance to the national finals.
Team Ninja Warrior 2
Bryan was a replacement for Team Ninja Warrior 2 for the David Campbell's team, the NorCal Ninjas. Sean Bryan had filled in for Brian Kretsch after an injury forced him to withdraw from competing in further heats. Despite being a replacement, Sean Bryan performed exceptionally, blazing through the courses and winning all of his heats. His team won the wildcard round, but was eventually knocked out in the finals by Drew Drechsel's team, the "Real Life Beasts".
American Ninja Warrior 9
Bryan came back in American Ninja Warrior 9 stronger than last year. In the Los Angeles qualifiers, Bryan placed 5th overall with a finish of 1:37.47. In the city finals, Bryan put up a memorable run by becoming one of the four finishers of that region as well as getting the fastest time out of all finishers, completing the course in 5:07.22. Overall, Sean is one of just nine athletes to have completed a city finals course this season. In Vegas, Sean cleared Stage One with 19.80 seconds left. and was one of only three people to clear Stage Two, he finished with 15.06 seconds remaining. In the third stage, he cleared the first three obstacles however his arms were fatigued upon reaching the Ultimate Cliffhanger resulting in him failing to make the transition to the fourth ledge.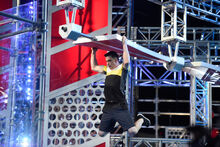 | ANW | # | Result | Notes |
| --- | --- | --- | --- |
| 9 | | Failed Ultimate Cliffhanger (Third Stage) | Couldn't reach fourth ledge |
Ad blocker interference detected!
Wikia is a free-to-use site that makes money from advertising. We have a modified experience for viewers using ad blockers

Wikia is not accessible if you've made further modifications. Remove the custom ad blocker rule(s) and the page will load as expected.