Scott Wilson is a Chess Instructor from Laverne, California, who first competed in American Ninja Warrior 8. On the ANW course, Scott Willson is nicknamed "The Chess Ninja".
Scott has also been a contestant on the game show, Wipeout. On the show, his full name was revealed as "Scott Wilson IV". Wilson was nicknamed on Wipeout as the "Checkmater". He was on a special episode in which male competitors would try to beat the whole course to not only win $50,000, but to win a date with the co-host, Jill Wagner. Scott appeared in the fourth episode in the seventh and last season of Wipeout, where he made it to the Wipeout Zone, the last stage of the show. Willson completed the course, but lost to fellow Wipeout competitor Nick Santos. However, he was actually awarded a $500 cash prize for being the last competitor standing in the second round, the Sweeper.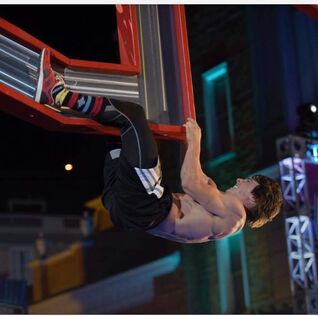 Scott first competed in Los Angeles in American Ninja Warrior 8 his run in Qualifying was cut but it was revealed that he failed the I-Beam Cross he did manage to gab the final spot in the top 30. in the city finals he failed the Salmon Ladder and placed 21st overall.
Willson also competed in Team Ninja Warrior 2 as an alternate for Daniel Gil's team, "Iron Grip". Willson filled in for Nate Burkhalter after he injured his right arm on the Floating Tiles. Willson proved to be a formidable replacement, winning against JJ Woods in the knockout round match-up against Team Ronin. His team later lost against Joe Moravsky's team, the "Storm Team" in the relay showdown.
Scott returned to compete in LA again in American Ninja Warrior 9 where he failed the Battering Ram but placed 28th and moved on to the city finals. In the city finals his run was digested but it was shown that he failed the Cannonball Drop. Willson placed 30th overall, and once again did not move on to Vegas.
Scott returned to compete in LA for the third straight year in American Ninja Warrior 10. His qualifying run was once again cut, but he failed the Doorknob Drop, making it his third straight year falling on the fifth obstacle in city qualifying. He still qualified for the city finals by placing 14th.
Trivia
Willson is the second ANW competitor to have previously competed on the game show, Wipeout, after Jessie Graff (who competed on the first season of Wipeout). Coincidentally, both competed in ANW 8 in the Los Angeles finals.