The New Wikia Look is part of an overhauled transition to a Web 2.0 similarity for Wikia. The new look has been internally developed by Wikia for quite some time, and has recently gone through both a private beta, a closed beta, and is now currently being implemented across wiki's before the finalization of the transition on November 4th.
The Old "Monaco" Skin
Come November 4th, the old "Monaco" skin will be removed from the Wikia network and this change will affect all wiki's on the network, including Sasukepedia. Seeing as how this skin will no longer be available, internal testing by Sasukepedia admins Scnoi1217 and Anshinritsumai have been working on a new color scheme for the "New Wikia Look" theme. Changes to Infoboxes, Navboxes, and other such templates have already been made, and only results tables remain to be changed.
The "New Wikia Look" Skin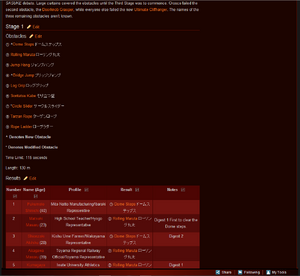 The "New Look" is availble to all wikia users through their skin preferences. While not enabled by default, the decision to include it as an option is the first phase for the roll-out of Wikia's transition to the new look. Once the transition is finalized on November 4th, and all wiki's are forced to the new look; Sasukepedia will have transitioned almost seamlessly to the new look, with exceptions to results tables for the time being.
Miscellaneous Notes
The "New Wikia Look" is live for all visitors (logged-out).
Editors that are logged in, may still use the Monaco skin until November 4th.

Using the monaco skin will cause some readability issues in results tables.

Editors that are logged in, may switch between Monaco and New Wikia Look before November 4th.

Come November 4th, all users will be forced over to the New Wikia Look regardless of preference.
Ad blocker interference detected!
Wikia is a free-to-use site that makes money from advertising. We have a modified experience for viewers using ad blockers

Wikia is not accessible if you've made further modifications. Remove the custom ad blocker rule(s) and the page will load as expected.