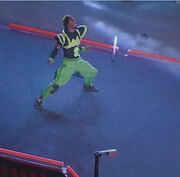 Ryoga Vee is an American competitor who has been participating in
G4
qualifiers since their inception but has never qualified for
SASUKE
. Recently, he has taken to the course wearing a red and black ninja outfit.
American Ninja Challenge
Ryoga Vee submitted video applications to all four American Ninja Challenge competitions. Despite becoming a fan favorite, he was not selected to compete in Japan.
American Ninja Warrior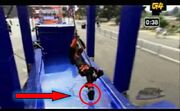 In American Ninja Warrior, Ryoga started strong, blazing through the Quintuple Steps. However, he didn't have enough momentum to reach the platform on the Rope Swing, failing to reach four times, mostly due to him climbing up instead of swinging to gain momentum. However, he managed to go back to the starting platform and try again, but on his second try, he extended his legs too early and his foot skimmed the water. He later did a bellyflop into the water after being DQ'd.
American Ninja Warrior 2
Ryoga came back for ANW2. He exacted revenge on the Rope Swing but failed the next obstacle, the Bridge of Blades.
American Ninja Warrior 3
Ryoga returned for American Ninja Warrior 3. Although he progressed further than his first two attempts, he failed the fifth obstacle, the Jumping Bars.
American Ninja Warrior 4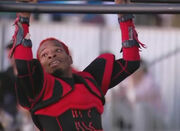 Ryoga returned once again for
American Ninja Warrior 4
. He struggled with the fifth obstacle, the
Pipe Slider
, holding on for over 48 seconds but ultimately failing the obstacle.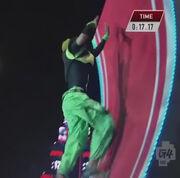 Despite failing the qualifier, Ryoga was selected to return as a one of the ten wildcard contestants. Breaking the tradition of red and black, he wore a green themed outfit to represent the Northwest region. He completed five obstacles until he timed out at the Warped Wall.
He didn't compete in American Ninja Warrior 5.
American Ninja Warrior 6
Ryoga returned one year later, an completed the Miami qualifying course for the first time, but failed the Dancing Stones in the Qualifiers. He has not competed on American Ninja Warrior since.
| SASUKE | # | Result | Notes |
| --- | --- | --- | --- |
| ANW4 | 45 | Failed Warped Wall (First Stage) | Wild Card. |
Ad blocker interference detected!
Wikia is a free-to-use site that makes money from advertising. We have a modified experience for viewers using ad blockers

Wikia is not accessible if you've made further modifications. Remove the custom ad blocker rule(s) and the page will load as expected.