The Rumbling Dice (ランブリングダイス) is an obstacle introduced in the Third Stage redesign in SASUKE 9. Competitors must hang from a metal box, rolled it along a track to get to the other side, and finally made the dismount to the landing platform to advance.
While it was more to drain strength for later obstacles in the stage, only two competitors have ever failed on the obstacle: Yamamoto Shingo in SASUKE 9 and Yamaguchi Kosuke in SASUKE 14. In both cases, both competitors made it to the end, but didn't get enough momentum and fell off the landing platform.
Starting in SASUKE 15, the height may have reached on the starting point without jumping, but it left the rail a little slippery, so the idling is noticeable.
It was replaced by the Arm Rings in SASUKE 16. Eventually, the Rumbling Dice returned in SASUKE 28 (along with the Curtain Cling), and was removed in SASUKE 31 in order to introduce the Sidewinder R.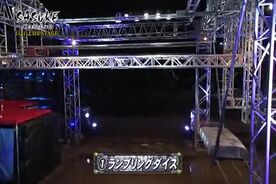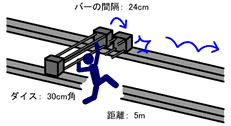 American Ninja Warrior Appearances
The Rumbling Dice appeared as the eighth obstacle on:
The obstacle used on American Ninja Warrior 5 and 6 was similar to the Rumbling Dice from SASUKE.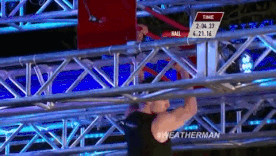 During American Ninja Warrior 6's St. Louis finals, Joe Moravsky became the first ever competitor to "break" the obstacle, pulling one side off the rail. However, he was able to complete it, thanks to the early dismount from the obstacle.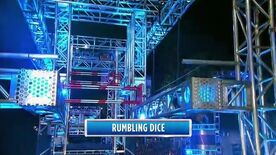 On American Ninja Warrior 7, the obstacle was modified with two dices instead of one. The first one weighed 30 lbs (roughly 13.61kg), and after completing the first dice, competitors must make a 4 feet transition to the second dice, which weighed 50 lbs (roughly 22.68kg). To avoid further happenings such as happened with Joe Moravsky during American Ninja Warrior 6's St. Louis finals, there were wires attached to both sides of each dice, which prevented the competitors to pull the dices off the rail.
Since the obstacle was placed after the Salmon Ladder with no rest, the Rumbling Dice had eliminated more competitors on American Ninja Warrior than in SASUKE, likely due to fatigue and bad dismount to the landing platform.
Other Appearances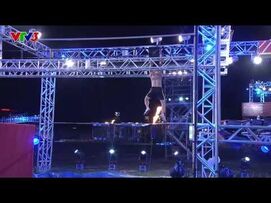 Lật xúc xắc (SASUKE Vietnam's official name for the Rumbling Dice) appeared as the third obstacle in Stage 3 on SASUKE Vietnam and SASUKE Vietnam 2.
During its overall appearances on SASUKE Vietnam, the obstacle caused an unusual disqualification, as several competitors were disqualified for sliding the dice forward instead of rolling it along the track.
It was replaced by the Pole Grasper and Hang Climbing on SASUKE Vietnam 3.
Competitors' Success Rate
All results based on the TBS broadcast and external information found
| SASUKE | Clears | Attempts | Percentage |
| --- | --- | --- | --- |
| 9 | 3 | 4 | 75% |
| 10 | 4 | 4 | 100% |
| 11 | 7 | 7 | 100% |
| 12 | 10 | 10 | 100% |
| 13 | 5 | 5 | 100% |
| 14 | 9 | 10 | 90% |
| 15 | 6 | 6 | 100% |
| 28 | 3 | 3 | 100% |
| 29 | 4 | 4 | 100% |
| 30 | 9 | 9 | 100% |
| Total | 60 | 62 | 96.77% |