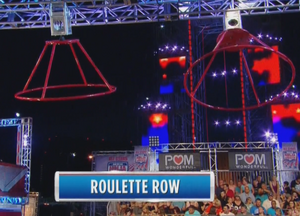 Roulette Row was the fifth obstacle in Stage 2 of the National Finals of American Ninja Warrior 7 which replaced the Metal Spin. Competitors use their arms and body momentum to navigate through two large Spin Cycles. Many competitors got stuck on the first cycle and were not able to generate enough momentum to reach the second cycle. It took out a total of 12 people.
Roulette Row was replaced in American Ninja Warrior 8 in favor of the Double Wedge.
Ad blocker interference detected!
Wikia is a free-to-use site that makes money from advertising. We have a modified experience for viewers using ad blockers

Wikia is not accessible if you've made further modifications. Remove the custom ad blocker rule(s) and the page will load as expected.