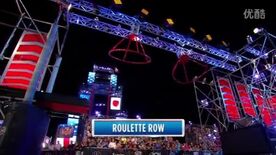 The Roulette Row is an obstacle, firstly introduced as the fifth obstacle in Stage Two on American Ninja Warrior 7, replacing the Metal Spin from the past three American Ninja Warrior seasons.
Competitors must jump from the trampoline, then grabbed the first hoop and must reach the second hoop immediately, and finally make a dismount from the second hoop to the landing platform.
This obstacle was similar to the Spin Cycle, except there were only two spinning hoops instead of three, larger hoops, and bigger gap between the hoops. Because of that, competitors who didn't reach the second hoop immediately, later got stuck on the first hoop and were not able to generate enough swing and momentum to reach the second hoop, and forced to fall into the water. Among the 20 competitors who attempted the obstacle, only 8 of them could complete it, and later finished Stage Two (including Geoff Britten, Isaac Caldiero, Joe Moravsky, and Drew Drechsel).
It was replaced in favor of the Double Wedge on the next season.