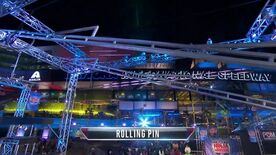 The Rolling Pin is an obstacle, firstly introduced as the second obstacle on American Ninja Warrior 9 in Daytona Beach.
Competitors must hold on to two red cylinders (the cylinders were similar as the one used in the Battering Ram), which were placed to a bar. The bar was linked by a chain, and connected to a ring on each side, which would go down a track and must hold on to the landing platform to advance. The track had two drops, but the drops were placed unevenly between the left side and the right side of the track, in order to make the cylinders harder to hold on.
The Rolling Pin was proven to be moderately difficult, with many competitors being eliminated from the uneven drops on the track. During Daytona Beach qualifiers, the obstacle took out 25 competitors, as well as one competitor during Daytona Beach finals.
Ad blocker interference detected!
Wikia is a free-to-use site that makes money from advertising. We have a modified experience for viewers using ad blockers

Wikia is not accessible if you've made further modifications. Remove the custom ad blocker rule(s) and the page will load as expected.