The Ring Slider (リングスライダー) first appeared in SASUKE 33 as the first obstacle of the Second Stage, replacing the Cross Slider.
It appears to be a variant of KUNOICHI 9's Slide Walk, except the poles are shorter, with the rings in which their feet must be placed are removed entirely. Thus only relying on the competitor's upper body.
Competitors have to slide down a wire track, but once they get to the middle, they have to lift up both of the poles over the stoppers, with similar concept from the Arm Rings, and continue to slide down to the landing pad.
While no one failed it, the obstacle proved to be an efficient time waster and strength drainer, as six of the 13 people, including a SASUKE All-Star, who attempted either or both Salmon Ladder Nobori and Kudari afterwards failed, while others like Hioki Masashi timed out later in the stage.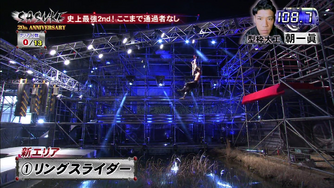 Competitors Success Rate
All results based on the TBS broadcast and external information found
| SASUKE | Clears | Attempts | Percentage |
| --- | --- | --- | --- |
| 33 | 13 | 13 | 100% |
| 34 | 24 | 24 | 100% |
| Total | 37 | 37 | 100% |
Ad blocker interference detected!
Wikia is a free-to-use site that makes money from advertising. We have a modified experience for viewers using ad blockers

Wikia is not accessible if you've made further modifications. Remove the custom ad blocker rule(s) and the page will load as expected.