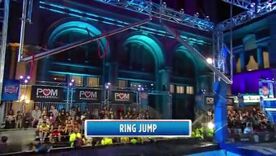 The
Ring Jump
is an obstacle, firstly introduced as the fourth obstacle in Los Angeles on
American Ninja Warrior 8
.
Competitors must move three rings across two slanted tracks, the first slanted up, the second slanted down, but there were pegs of different heights that had to be jumped over. Competitors would have to reach for the first ring, jumped it over a few pegs, and then reached for a second ring, and used those two rings to climb the first track. Then, competitors must transfer to the third ring on the second track, and jump or slide it down over the pegs to reach the landing platform.
During Los Angeles finals, one of the rings was made bigger, making it heavier to jump.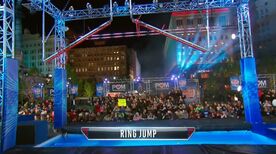 The Ring Jump returned as the fourth obstacle on American Ninja Warrior 9 in Cleveland. However, the obstacle was heavily modified, with the number of rings was reduced from three to just two (one on each slanted track), the number of pegs was also reduced, the shorter tracks, and a larger gap between the end of the second track to the landing platform. It eliminated more competitors during Cleveland qualifiers than during Los Angeles qualifiers (including Michelle Warnky, Rachael Goldstein, Amy Pajcic, and Luis Moco).
However, an easier technique was discovered during Cleveland qualifiers (although it was done early by Jessie Graff during American Ninja Warrior 8's Los Angeles finals). Competitors grabbed the first ring, then faced the obstacle backward. This would generate more power to jump the ring across several pegs, and made this obstacle needed less time and energy to complete it. In fact, no competitor failed on this obstacle during Cleveland finals. 
Other Appearances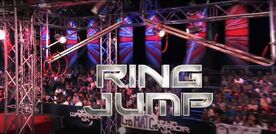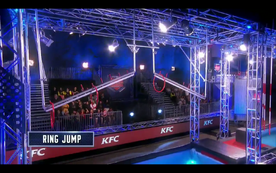 The Ring Jump appeared as the fourth obstacle during the finals' Stage 1 on Ninja Warrior UK 3 (no competitor failed on this obstacle), and then as the seventh obstacle in Semifinal 1 on Australian Ninja Warrior. Both of them had the obstacle similar to the Ring Jump from American Ninja Warrior 8.