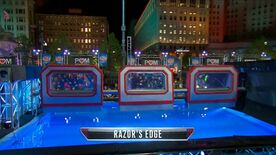 The Razor's Edge is an obstacle, firstly introduced as the third obstacle on American Ninja Warrior 9 in Cleveland.
Competitors must run on top of three unstable vertical boards, until they reached the landing platform to advance. The boards have an axis placed near the bottom, which made them would tilt to the left/right, if competitors did not have the right footwork while attempting the obstacle.
Although the function of this obstacle was very simple, due to its placement after the Rolling Log, several competitors still got disoriented while attempting the obstacle. During Cleveland qualifiers, it took out 19 competitors, as well as 3 more competitors during Cleveland finals.