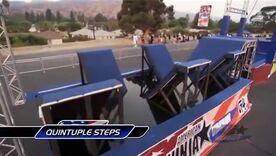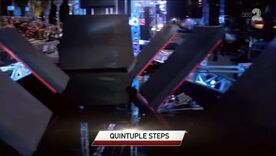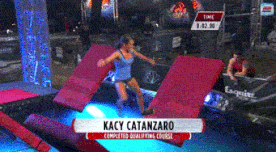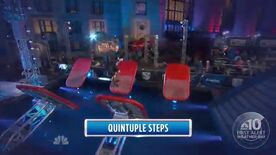 The Quintuple Steps is an obstacle, firstly introduced on American Ninja Warrior 1, as the first obstacle in qualifying and semifinal. Competitors must across five angled steps to the landing platform (in a similar fashion with the Rokudantobi, except with farther spacing and different design).
On American Ninja Warrior 2 and American Ninja Warrior 3, the Quad Steps replaced this obstacle as the first obstacle in qualifying and semifinal, and then on American Ninja Warrior 4 in every qualifying region. 
On American Ninja Warrior 5, this obstacle returned, once again as the first obstacle in every qualifying city, and had been used until American Ninja Warrior 7, before being replaced by the Floating Steps on American Ninja Warrior 8. 
During the broadcast of American Ninja Warrior 5's Venice Beach finals, it was revealed that 43 out of 125 competitors had been taken out by this obstacle during Venice Beach qualifiers.
Other Appearances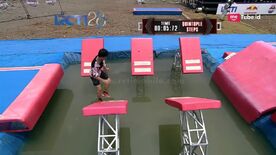 The Quintuple Steps has been used in almost all of SASUKE/Ninja Warrior's international format, including:
Ninja Warrior UK,
Australian Ninja Warrior,
Ninja Warrior Sweden,
Ninja Warrior Germany, and
SASUKE Ninja Warrior Indonesia.
Ad blocker interference detected!
Wikia is a free-to-use site that makes money from advertising. We have a modified experience for viewers using ad blockers

Wikia is not accessible if you've made further modifications. Remove the custom ad blocker rule(s) and the page will load as expected.