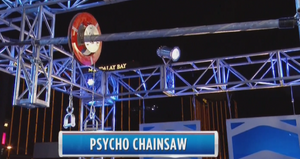 The Psycho Chainsaw was the first obstacle in Stage 3 of the National Finals of American Ninja Warrior 7, replacing Cannonball Incline from American Ninja Warrior 6. Competitors grab two chains and pump their arms up and down to move the disc that the chains are attached to down a track. Once they are at the end of the track they must transition to the Doorknob Grasper. However, it was removed in American Ninja Warrior 8 in favor of the Keylock Hang. It was originally supposed to be the first obstacle in the Third Stage in ANW 8 to immediately be followed by the Keylock Hang seen via Crashing The Course. However, the producers decided last minute to remove it for unknown reasons, replacing it with a trampoline and two lache bars as a medium leading to the Keylock Hang. 
Competitors' Success Rate
All results based on the NBC broadcast and external information found.
| ANW | Clears | Attempts | Percentage |
| --- | --- | --- | --- |
| 7 | 8 | 8 | 100% |
| Total | 8 | 8 | 100% |
Ad blocker interference detected!
Wikia is a free-to-use site that makes money from advertising. We have a modified experience for viewers using ad blockers

Wikia is not accessible if you've made further modifications. Remove the custom ad blocker rule(s) and the page will load as expected.