The Propeller Untei (プロペラ雲梯) is a Third Stage obstacle, introduced in SASUKE 1 as the second obstacle. To clear this obstacle, the competitor must across a series of 3 horizontal, slowly-spinning bars, which were anchored to the top of the course. All of the bars moved clockwise and at the same speed.
After Akiyama Kazuhiko's kanzenseiha in SASUKE 4, it became the first obstacle in the Third Stage. Competitors had great success in this obstacle, as the only competitor to fail it was James Okada in SASUKE 7.
In SASUKE 9, it was replaced by the Rumbling Dice.
KUNOICHI Appearance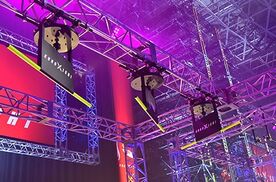 After 15 years hiatus since SASUKE 9, the Propeller Untei returned. This time, as the first obstacle in the BLACK Stage (Third Stage) of KUNOICHI 10. Although several competitors showed struggles while attempting this obstacle, due to the torque was less which resulted in frequent halt from the bars, all 3 competitors could complete it. 
American Ninja Warrior Version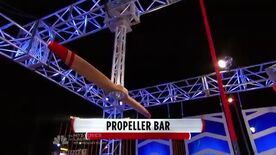 A variation of the Propeller Untei (called as the Propeller Bar) appeared as the fifth obstacle in Stage Three on American Ninja Warrior 6, replacing the Bungee Rope Climb from the past two American Ninja Warrior seasons.
However, unlike in SASUKE/KUNOICHI, there was only one wooden propeller (8 feet in length) that spun freely. Competitors must jump from the trampoline and grab the propeller, spun around, and then grabbed the rope, transitioning to the Hang Climb. Joe Moravsky was the only one to attempt it and had completed it.
During USA vs. The World, all competitors who attempted the obstacle, could complete it.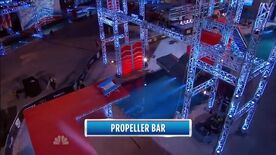 The Propeller Bar made its second appearance on American Ninja Warrior 7, as the second obstacle in Stage One, replacing the Giant Ring from the previous season, with an additional challenge of landing on a sloped platform, in which they must climb to clear it.
This version of the Propeller Bar had taken out a handful of competitors like Sam Sann, Karsten Williams, and most of the female competitors (due to their height, e.g. Kacy Catanzaro). A total of 95 competitors attempted it, and 13 competitors fell on it.
The Propeller Bar returned on American Ninja Warrior 8, once again as the second obstacle in Stage One, and was proven to be more brutal than the previous season, taking out top competitors like Michelle Warnky, Jon Stewart, Ian Dory, Mike Bernardo, and Kacy Catanzaro (for the second straight season).
The Propeller Bar appeared again on American Ninja Warrior 9, once again as the second obstacle in Stage One. However, unlike on the previous season, this obstacle was proven to be a relatively easy obstacle, as only seven competitors failed. Also, among the 12 female competitors who attempted this obstacle, only two of them failed (Rebekah Bonilla and Sara Heesen).
Competitor's Success Rate
All results based on the TBS/NBC broadcast and external information found
| SASUKE | Clears | Attempts | Percentage |
| --- | --- | --- | --- |
| 1 | 4 | 4 | 100% |
| 2 | 9 | 9 | 100% |
| 3 | 6 | 6 | 100% |
| 4 | 10 | 10 | 100% |
| 5 | 1 | 1 | 100% |
| 6 | 5 | 5 | 100% |
| 7 | 4 | 5 | 80% |
| 8 | 4 | 4 | 100% |
| Total | 43 | 44 | 97.73% |
KUNOICHI
| KUNOICHI | Clears | Attempts | Percentage |
| --- | --- | --- | --- |
| 10 | 3 | 3 | 100% |
| Total | 3 | 3 | 100% |
American Ninja Warrior