The Philadelphia Finals episode of American Ninja Warrior 8 aired on August 22, 2016. This is the tenth episode of the season. This was the fifth and final week of the city finals. It was also the first episode back from the two-week hiatus for the 2016 Summer Olympics. The episode took place at Richmond Power Plant in Philadelphia, Pennsylvania. The episode was hosted by Matt Iseman and Akbar Gbaja-Biamila. Kristine Leahy co-hosted as the sideline reporter. This episode included competitors like the Fantasic Four women competitors Michelle Warnky, Rachael Goldstein, Allyssa Beird and Jesse "Flex" Labreck. Also competitors included Joe Moravsky, Geoff Britten, Najee Richardson, Chris Wilczewski and Ryan Stratis.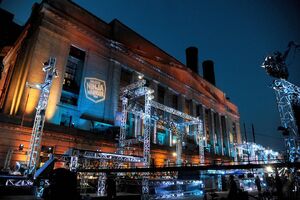 Obstacles
2. Log Grip
4. Wall Drop
6. Warped Wall
9. Stair Hopper
10. Invisible Ladder
Description
The Philadelphia Finals featured one obstacle, the Stair Hopper and two modified obstacles from the qualifying round. Though two competitors; gym owner Chris Wilczewski and weatherman Joe Moravsky made it the farthest by nearly completing the Invisible Ladder. However, for the first time in ANW city finals history, there were no finishers, making it the hardest city finals obstacle course in the series history. Caregiver Jesse "Flex" Labreck earned the POM Wonderful Run of the Night, becoming only the 3rd woman in season 8 to advance to the Las Vegas finals, after Jessie Graff and Meagan Martin. Redemption Night will be in store for the competitors who competed in Philadelphia for the National Finals in Vegas this year.
Shocking falls include Rachael Goldstein, Allyssa Beird and Michelle Warnky.
Ad blocker interference detected!
Wikia is a free-to-use site that makes money from advertising. We have a modified experience for viewers using ad blockers

Wikia is not accessible if you've made further modifications. Remove the custom ad blocker rule(s) and the page will load as expected.