Patrick Cusic (パトリックキュージック) was a competitor for American Ninja Warrior 2. In the qualifier. He managed to win a spot in the top 30. In the Semi-Final's he faltered on the Salmon Ladder, but managed to place 15th in the Semi Final's and move onto boot camp. In the finals, he was set for elimination once, and barely won over Dorian Cedars to eliminate Dorian. Later on he was suggested for elimination, but teammate Evan Dollard decided to take his place and Patrick moved onto Japan.
In SASUKE 26 he would slowly, but easily clear the first two obstacles, but he slipped off the Rolling Escargot, and failed the obstacle.
Cusic came back in American Ninja Warrior 3 with a sprained foot, and completed the course in a triumphant effort by being the first person to finish the course with one shoe on. However, he got caught up in the Jump Hang and by finishing the course in a little over 2 minutes, he didn't finish fast enough to get in the top 30.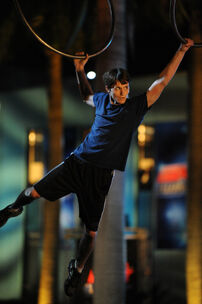 In American Ninja Warrior 4, Cusic started strong in the qualifier, but he couldn't get up the Soritatsu Kabe, but his time through the Wall Lifting was enough to make the Top 30. In the Regional Finals, Cusic moved slowly and finished in 4:35.22 which wasn't fast enough to make the Top 15 due to the large amount of clears that day. Cusic was however selected as one of the 10 wildcards and he got to try the Las Vegas course, but he timed out on the Soritatsu Kabe in the First Stage.
He returned in American Ninja Warrior 6, where he competed in Miami and while he started strong through the qualifier, he once again failed to scale the Soritatsu Kabe in the Qualifying Round.
Results
| SASUKE | # | Result | Notes |
| --- | --- | --- | --- |
| 26 | 60 | Failed Rolling Escargot (First Stage) | All Cut. Shown on G4. |
| ANW 4 | 43 | Failed Soritatsu Kabe (First Stage) | Digested. Time Out |
Ad blocker interference detected!
Wikia is a free-to-use site that makes money from advertising. We have a modified experience for viewers using ad blockers

Wikia is not accessible if you've made further modifications. Remove the custom ad blocker rule(s) and the page will load as expected.