Okada Yuuichi (岡田 祐一) has competed three times on SASUKE. From a picture on Facebook, it was revealed he competed in SASUKE 10 wearing #962. Nine years later, he returned for SASUKE 27. There, he wore #68 but timed out on the Soritatsu Kabe. He trains on 13 obstacle replicas at home. It's also known he tried out for SASUKE 29, but didn't make it into the competition. He competed in SASUKE 31, where he put in his best performance yet. His 1st stage run was digested, but he cleared for the first time. In the Second Stage, he swiftly completed the first half of the course, however was quite slow on the Backstream and only left himself 20 seconds to complete the Wall Lifting, where he struggled and timed out as he had just lifted the final wall.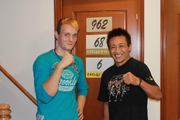 | SASUKE | # | Result | Notes |
| --- | --- | --- | --- |
| 10 | 962 | Unknown (First Stage) | All Cut |
| 27 | 68 | Failed Soritatsu Kabe (First Stage) | Time Out |
| 31 | 76 | Failed Wall Lifting (Second Stage) | Time Out |
Ad blocker interference detected!
Wikia is a free-to-use site that makes money from advertising. We have a modified experience for viewers using ad blockers

Wikia is not accessible if you've made further modifications. Remove the custom ad blocker rule(s) and the page will load as expected.