Nocchi (ノッチ) is a comedian and impersonator who has competed in SASUKE three times.
His first attempt came in SASUKE 18. There he impersonated SASUKE All-Star Yamada Katsumi and even competed right after him, wearing #74. However, he failed the new Rope Glider when he toppled past the platform into the water.
He returned in SASUKE 22 with fellow comedians, Kishi Manabu and Yasuda Kazuhiro. Impersonating United States President Barack Obama, Nocchi competed in SASUKE 22 and SASUKE 24. In both tournaments, he was unable to clear the Log Grip and prompting announcer Ogasawara Wataru to turn Obama's catchphrase, Yes, you can! into, No you can't! the first time.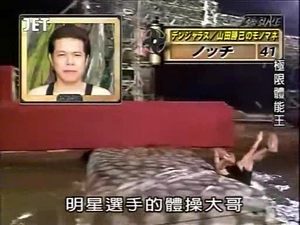 Results
| SASUKE | # | Result | Notes |
| --- | --- | --- | --- |
| 18 | 74 | Failed Rope Glider (First Stage) | Digest |
| 22 | | Failed Log Grip (First Stage) | |
| 24 | 60 | Failed Log Grip (First Stage) | |
Ad blocker interference detected!
Wikia is a free-to-use site that makes money from advertising. We have a modified experience for viewers using ad blockers

Wikia is not accessible if you've made further modifications. Remove the custom ad blocker rule(s) and the page will load as expected.