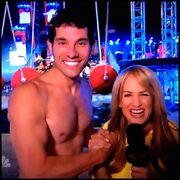 Dr. Noah Tal Kaufman, MD
,is an Emergency Room physician and elite Rock Climber who first competed in American Ninja Warrior Season 5. Noah impressed everyone before he even took on the Venice Qualifying Round by reducing Alan Connealy`s dislocated shoulder which was televised on NBC. Noah then "sailed through" the qualifying course with much enthusiasm; making it look easy. He aced the warped wall and gave a memorable and ecstatic one-arm turn around victory fist-pump to which the crowd went wild. In the Venice Finals, as a rookie, Noah advanced to the 5th rung of the Salmon Ladder easily but then made the transition to the Rope Maze early which was not allowed. His fellow competitors shouted at him to go up to the 6th rung. He then successfully got up to the 6th rung, but lost his grip. Noah did however move on to Mt. Midoriyama as a wildcard. In Las Vegas, Noah Kaufman appeared thinner and more fit and was one of the 21 out of 85 finalists who was able to complete Stage 1 of Midoriyama.
Double Salmon Ladder
, he failed the transition to the 2nd ladder.
Next season in ANW6, Kaufman competed in Denver again and finished the qualifying course placing 19th. He nearly fell on the Quintuple Steps, but recovered before his foot splashed the water. He then ended up finishing the Denver Finals placing 5th. Kaufman had later formed a four man group called of the Denver Wolfpack which consists of Brian Arnold, Isaac Caldiero, Ian Dory and himself. All of them completed Stage 1 but none of them had completed Stage 2. Kaufman failed the Unstable Bridge after clearing the Double Salmon Ladder, which took him out the year before.
Kaufman appeared in again in American Ninja Warrior 7 and had completed the Kansas City qualifying course, placing 36th out of the 38 finishers. In the finals, Kaufman was flirting with disaster as he nearly failed the Big Dipper. However, as an unbelievable shocker, Kaufman couldn't grab onto the log on Bungee Road and slipped off, placing 32nd overall. This ended up being the second time Kaufman failed a city finals course. He was later seen supporting his other Wolfpack members in Vegas, despite being the only Wolfpack member to fail to make it to Vegas.
In ANW 9 Noah returned in Denver and failed the Bouncing Spider in qualifying after getting shot forward by the tramp. In Akbar's words the doc, "Flatlined on the trampoline"
| Season | Result | Stage | Note |
| --- | --- | --- | --- |
| ANW5 | Failed on Double Salmon Ladder | (Second Stage) | Competed as Wild Card |
| ANW6 | Failed on Unstable Bridge | (Second Stage) | Lost his grip on second board. |
| | | | |
Ad blocker interference detected!
Wikia is a free-to-use site that makes money from advertising. We have a modified experience for viewers using ad blockers

Wikia is not accessible if you've made further modifications. Remove the custom ad blocker rule(s) and the page will load as expected.