Nick Hanson aka "The Eskimo Ninja" is a coach from the small village of Unalakleet Alaska.
American Ninja Warrior 7
Nick first competed in Venice in American Ninja Warrior 7 where he was one of the many competitors that failed the Hourglass Drop. He just missed out on advancing to the city finals as he placed 31st overall.
American Ninja Warrior 8
Nick returned to compete in Los Angeles in American Ninja Warrior 8 where he cleared the Qualifying course placing 13th. In the city finals, Nick made it to the back half of the course, where he just barely completed the Salmon Ladder, he ultimately lost his grip on the Wedge, but his performance did place him 14th in the top 15. In the National finals, Nick unfortunately timed out at the top of the rope ladder.
American Ninja Warrior 9
Nick returned to compete in LA again in American Ninja warrior 9. his run was digested but he finished the Qualifying course placing 7th. in the city finals, he failed the Swinging Pegboard when he missed the grab to the second pegboard, but he placed 14th overall, making his second trip to Vegas. On Stage 1, Nick became the first competitor that hit the buzzer on Stage 1 that season, finishing with 5.03 seconds to spare. His run on Stage 2 was digested but it was shown he struggled with the course and failed the Criss-Cross Salmon Ladder when he lost his grip after the final transition.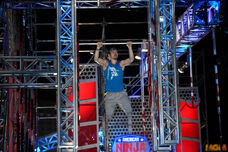 American Ninja Warrior 10
Nick returned to compete in LA in American Ninja Warrior 10, In Qualifying, he became just the second competitor to scale the Mega Wall and take home $10,000. he finished the course in 9th place. In the City Finals Nick's run was put in the corner to watch during advertisements. He managed to get to the Baton Pass before failing. He placed 12th and advanced to Vegas.