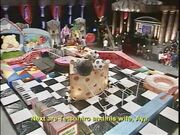 Obstacle course involving a man transporting a woman on a wheelbarrow that looks like a cat (a "neko (cat) cart"). The contestants have 60 seconds to complete the first four obstacles and reach the break zone. After that, the time is unlimited. This is the second course to undergo a numerical upgrade change without a victor. The second version only aired in Japan.
Obstacles
Neko De Drive I
Banana Turn
Watermelon Ramp
Donut Loop
Mouse Trap
Break Zone
Book Steps
Broken Piano
Slanted Path
Zig-Zag Wall
Fish Ribs
Neko De Drive II
Gallery
Courses
Neko De Drive I
Neko De Drive II
Player Profile Backgrounds
Audience
Ad blocker interference detected!
Wikia is a free-to-use site that makes money from advertising. We have a modified experience for viewers using ad blockers

Wikia is not accessible if you've made further modifications. Remove the custom ad blocker rule(s) and the page will load as expected.