Nathan "Nate" Burkhalter is an oil and gas engineer who waited in the walk-on line for three years before getting chosen to compete on the course in Oklahoma City in American Ninja Warrior 8, where he was the first to complete the qualifying course, placing 9th. In the city finals, he failed the Salmon Ladder. However, he barely was able to advance to the national finals placing 15th overall. His run on Stage 1 was cut but it was revealed that he failed the first obstacle, Snake Run.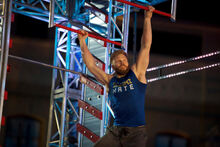 Nate returned to compete in San Antonio in American Ninja Warrior 9. Starting in 2017, Nate mentioned that he currently is living in Norway for his job as an engineer, and traveled over 6000 miles to compete in San Antonio, TX. He failed the Pipe Fitter but he placed 22nd in the top 30 and moved on to the city finals. In the city finals, Nate got his revenge on the Pipe Fitter and the Salmon Ladder, but was one of the many competitors that failed the Hourglass Drop, This time around, Nate just missed out on going to Vegas, where he paced 16th. Additionally, his brother, Ben Burkhalter, competed in Denver in the same season.
He returned to compete in Dallas in American Ninja Warrior 10. His qualifying run was completely cut, but it was shown that he failed Crank It Up and still made it to the top 30 for the 3rd year in the row, placing 16th.
Trivia
Many of Nate's nicknames come from words that use his first name as a suffix (e.g. Passionate, Illuminate, etc.) Additionally, Nate has other nicknames such as "No Limits Nate".