Natalie Duran is a professional rock climber and clinical researcher from Los Angeles, California.
American Ninja Warrior Season 5
She was a rookie in American Ninja Warrior 5 in the Venice Qualifiers with an unfortunate fall early on the Frame Slider.
Team Ninja Warrior
After a long three year hiatus, Natalie made another debut on Team Ninja Warrior Season 1 Episode 2 with captian Neil Craver and Grant McCartney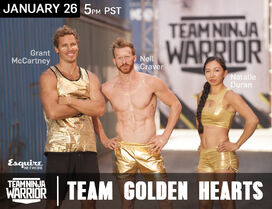 for Team Golden Hearts. Her first run was a quick win and point for her team, against Norcal Ninja's Rachel Mulvaney when Rachel fell on the cargo net. For round 2 Natalie again won a point for her team on the bungee cords obstacle when Towers of Power's Selena Laniel fell during the transfer from the bungee to the tilted barrel.
American Ninja Warrior Season 8
Natalie Duran made it all the way to the wall where she failed although she was still able to make it to the city finals as she placed 19. In the city finals she made an early exit on the 2nd obstacle as for she did not make the top 15 . But she will compete as a wildcard in Vegas. She failed the Propeller Bar after bouncing too forward and completely missing the propeller.
American Ninja Warrior 9
She returned to compete in LA. Her run in qualifying was digested but she failed the Battering Ram. Her time through the first 4 obstacles were good enough for her to place 5th in the women top 5. In the city finals she once again failed the Battering Ram by having a bad mount from the trampoline and she didn't qualify for Vegas.
American Ninja Warrior 10
She once again returned to compete in LA. Her run unfortunately was cut short as she had shockingly failed on just the second obstacle, the Jumper Cables.